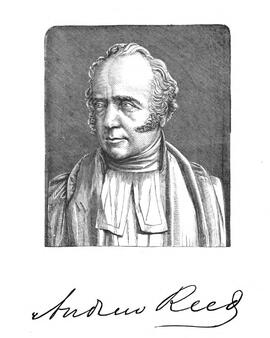 Andrew Reed was born in the parish of St Clement Danes, London in November 1787. His father, Andrew Reed, watchmaker, and his wife, Mary Anne Mullen, who before their marriage had run a dames' school in Little Britain. In 1799, Mary Anne would open a china shop in Clerkenwell the profits of which allowed her husband to focus on being a lay evangelist and itinerant preacher. The young Andrew Reed was initially sent to school in Mitcham and Hayes in Kent before briefly been apprenticed to his father's profession of watchmaking. However, it was clear that he wished to devote his life to religion and his parents were happy to support him in this endevour. Reed entered Hackney College, an independent theological seminary in 1807 and was ordained pastor in November 1811 at New Road (later Wycliffe) Congregational College. He would hold this position until his resignation in 1861.
In 1816, Reed married Elizabeth Holmes, and they would have seven children, though two died in infancy. One of their sons, become Sir Charles Reed, M.P., who also served on the Hospital's board. His second son, Talbot Baines Reed, author, would also serve on the Board. All three of these men were buried in Abney Park Cemetery, Stoke Newington. Reed and his family initially lived in Cheshunt but due to the claims of the various institutions that he managed, he spent the majority of his life living in a house in Cambridge Heath, near Hackney.
Reed was ordained as Minister of the New Road Chapel on his 24th birthday. In 1831, it was decided to move the Church to a more commodious building and in June that year the Wycliffe Chapel, now part of the London Hospital, was opened. In 1834, he visited the United States as part of a delegation of the Congregational Union of England and Wales. Whilst there, he visited Yale University where he was honoured with a degree of divinity (D.D.).
Reed's first foray into philanthropy was through the creation of the London Orphan Asylum in July 1813. Initial responses were meagre but the charity began to expand, helped by the patronage of the Duke of Kent, Queen Victoria's father. By 1825, the charity moved to a new residence in Clapton that could hold 200 orphans at a cost of £25000. Reed left the Board in 1844 due to a dispute over religious teaching at the asylum and the asylum would later move to Watford and eventually Cobham, Surrey where it exist as Reed's School.
The second charity that Reed founded was the Infant Orphan Asylum in 1827 which began in Hackney Road before moving to Wanstead, East London. Reed would remain on the Board of Management until 1840 and in 1843 founded the asylum for Fatherless Children, or Reedham Orphanage at Coulsdon, Surrey. The fourth charity he established was Royal Earlswood Hospital, formerly known as The Asylum for Idiots, in 1847. This charity was one of the first institutions in the United Kingdom to help people with developmental disorders. A subsidiary institution to the charity was set up in 1850 in Essex Hall, Colchester and in 1852 the Asylum moved to the Earlswood estate near Redhill where it would remain open until 1997.
In 1854, Reed established his final charity, the Royal Hospital for Incurables (now known as the Royal Hospital for Neuro-disability). Reed had began thinking of creating an asylum for people with long-term disabilities in 1845 and began to collect statistics and toured continental Europe looking at how continental hospital treated these patients. On July 10 1854 the Hospital was founded at the London Tavern and was initially based on Carshalton from 1855 to 1857 before moving temporarily to Putney House, Putney whilst a site for the future hospital could be found. Reed had been keen to build the hospital in Coulsden, and purchased land to that effect, but the Hospital Board eventually rejected the site and the Hospital would move into Melrose Lodge on Putney Heath in 1863.
Along with these charities, Reed was responsible for establishing Hackney Grammar School in 1829 and the the East London Savings Bank in 1837. Reed was also popular religious author and published a number of literary works as well as a hymn book. Reed died at his home on 25 February 1862, in his 75th year.